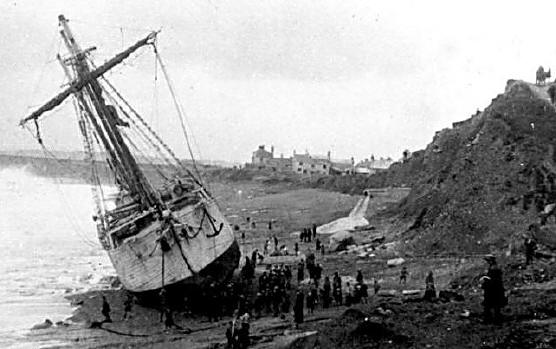 Large three Masted Schooner MADELAINE TRISTAN – Captain Vallon. Cargo, Grain. Detail in Portland Museum & Weymouth Library L910.4.MA1-MA22. Also Photo L942.33.BU3. Chesil Cove. (Some detail in LARN, 1930) Rocket Apparatus. Good local story. Excellent pictures also in LePard: pages 116, 117, 118 & 119. Other refs. Burnett: p57; Southern Times: 12/09/1931. Portland Museum No. 14. Times
The three masted schooner MADELAINE TRISTEN was bound for Le Harve, France from Treguier with a cargo of 52 tons of grain when she was driven into Chesil Cove by a fierce gale. She came in parallel to the beach for a short distance close inshore until she reached the cove. Captain Vallon chose the largest wave he could and rode his ship as high up the beach as he could. Local information described how the vessel came in near the senior school which was considered the best place for a rescue. The first rocket and line fired was taken straight up in the air by the wind and fell back through the roof of the school. Hand lines were then thrown on board and by means of a rope from the mast-top all the crew managed to get to safety.
The captain admitted he thought he was on the North French coast. The wreck was sold for a £1. It is doubtful if it paid for the sewer pipe broken when she beached!
References:
Dorset Shipwrecks by D. Burnett, The Dovecote Press, Wimborne. ISBN; 0-946159-04-1 – 1982.
Southern Times, 12/09/1931, p12.
Weymouth Library L910.4.MA.1-MA.22.
---
Day of Loss: 20
Month of Loss: 9
Year of Loss: 1930
---
Longitude:
Latitude:
---
Approximate Depth:
---