Norwegian Steamship [55M] (Clarke: GPS; 50 22.00N; 02 59.01W) Torpedoed and sunk by German Gunboats. NIL.
Owner: Dampsk-A/S Bokn.
Manager: Erik Bakkevik, Haugesund
Tonnage: 698(?) gt, 900 tdwt.
Call Sign: LCRE.
Pre war history: Delivered from Bergens mek. Verksted in March-1890 as Urda (73) to M. J. Schjelderup, Bergen. Tonnage at the time is given as 724 gt, 440 net, 900 tdwt, 195′ x 28.1'x 11.1′, tiple exp. 92 nhp (5M). Sold in May-lO n Apr.-1906 (July-1906?). Sold in May-1915 to D/S A/S Avis (Thv, Halvorsen), Bergen. Sold in March 1916 to eden Oct-1923 to Sam. Marcussens Rederi A/S (Sam. Marcussen), Oslo and renamed Granheim. Sold again in Febr.-1925 to DIS ANS in Ellerhusen e.a., Bergen, then owned by Didrik Ellerhusen & Co. e.a., Bergen trom 190urcnasea oy " Blidensol (Brødrene Olsen), Stavanger and renamed Blidensol, managed from June-l922 by Torer Meling Stavanger od Bokn (Erik Bakkevik), Haugesund and renamed Bokn.
Captain: Adolf Olai Mæle.
Bokn, bound for L'Orient with cod roes, is listed as sailing in Convoy HN 20 from Norway to the U.K. in March-1940. She was bombed by German aircraft on June 13-1941 when she was on a voyage from Maryport to Southampton with a cane of coal. The bombs detonated very close and she sprang a leak. The captain decided to beach her near St. Ives, where she stayed for a couple of weeks until the damage could be repaired.
Final Fate – 1942:
Departed Bary Docks on July 7-1942 with a cargo of coal for Portsmouth and joined eastbound coastal convoy WP-183. Attacked by E-boats of 2nd S-Flottille on July 9 when in Lyme Bay between Dartmouth and Portland. The Norwegian D/S Kongshaug was commodore ship (also sunk, as was the Norwegian D/S Røsten – follow link for the names ot other ships sunk in this attack). The British destroyer Brocklesby was escorting the convoy. It appears that Kongshaug was the first ship to get hit and as Bokn was herself fired upon from both sides she had to sail past the 14 survivors in the water (they were picked up by Brocklesby within an hour). A little over 20 minutes later Bokn went straight down after having been hit in hatch No. 2 by a torpedo from the fast attack boat S-70 (Klose) at about 01:27, 4 men went down with the suction as the ship sank, but surfaced again and were able to climb onto a raft. They were picked up by the escort a couple of hours later and taken to Portsmouth. The 4 had seen the lifebelt light from a shipmate but the wind and current had prevented them from reaching him. 12 had died, 8 of whom were Norwegian. The captain's body was later found in the water and he was buried in Portland.
The maritime hearings were held in London on July 16-1942 with the 1st mate, the 2nd engineer and the surviving able seaman appearing.
A total of 7 Norwegian ships were sunk by E-boats in the first half of 1942, 25 allied ships went down in the English Channel and on the south and east coast of England in this period.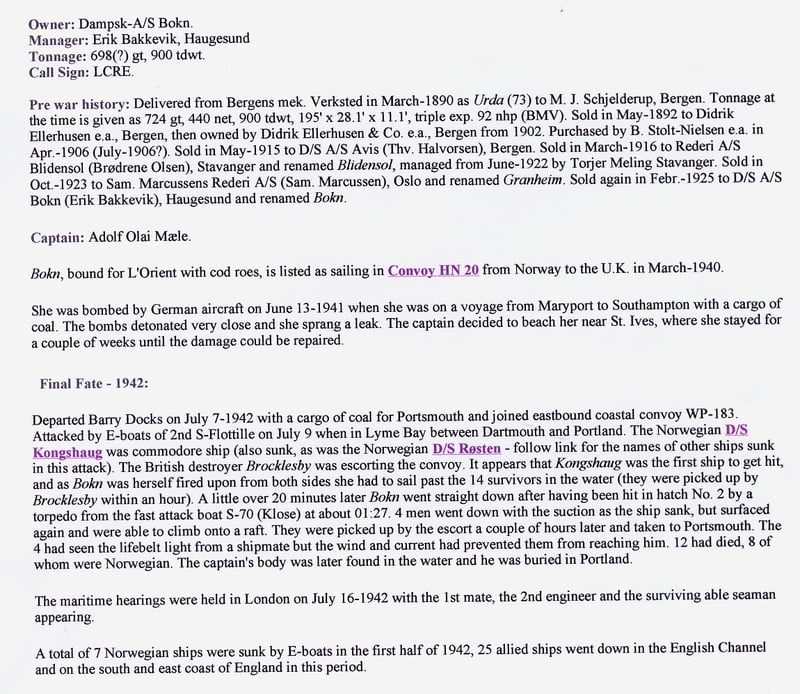 Source unknown
---
Day of Loss: 9
Month of Loss: 7
Year of Loss: 1942
---
Longitude: 50 22.00
Latitude: 02 59.01
---
Approximate Depth: 55
---